Students' guide to D211's Career Expo
Interviewing practice, networking, and potential job opportunities: These are just three reasons students should attend the Career Expo.
Hang on for a minute...we're trying to find some more stories you might like.
Are you thinking about applying to college or for a job one day? Do you have some free time on your hands now, or will have some this summer? Are you looking to gain some experience in a specific career area? If any of these questions apply to you, then the D211 Career Expo is for you.
"It's a great way to get some experience interviewing, networking, and talking to different companies," said Cindy Jordan, HEHS Career Adviser.
District 211 will host its first Career Expo this Wednesday, April 4 from 4:30 to 6:30 p.m. at Palatine High School. Students will have an opportunity to meet large local companies such as Motorola, State Farm, and Arlington Pediatrics, said Jordan.
At the Expo
The setup is intended to be easy to navigate. The companies will be at tables lined up within their respective career clusters. Each company will clearly indicate who they are and what type of opportunity they are offering. Students will have the chance to network and talk with representatives, so make sure to dress business casual.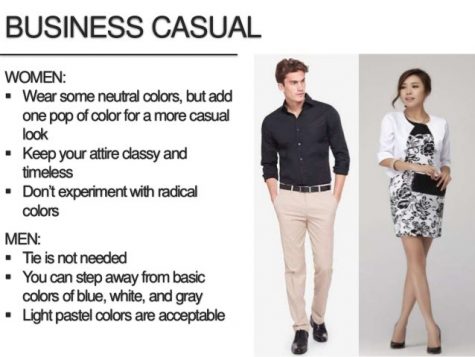 Before attending
Before going to the event, students should have 15-20 copies of their resumes printed out and be prepared to answer interview questions. If you need help composing your resume or want to prep for the interview, find a business teacher. Send them an email including your name and what you need help with. Family members and YouTube are also great resources. Also, to make the most efficient use of your time, go in with confidence and with a goal. Look at the companies attending beforehand and find a couple with whom you would like to speak. Click here to learn more about the career clusters and companies attending. Click here to read over the program for the event.
For help with resumes and interviews prep, email a business teacher. See the list below:
Dr. Largo = [email protected]
Mr. Canace = [email protected]
Mrs. Pecka = [email protected]
Mr. Magan = [email protected]
Here's a breakdown of everything you need to know:
Complete the registration link by clicking here.
Fill out the transportation permission slip (No form = no food)

Remember to be at the Front Entrance (by attendance office) at 3:45 p.m.
You can find the permission slip via Schoology: RPCG6-58VQR

Print 15-20 copies of your resume. Note: A resume is not mandatory, but it helps.
Have an elevator pitch (a couple sentences about yourself and what you're looking for)
Dress professionally.
Go in with a plan. Know what you want.

Program guides will also be available at the front entrance at 3:45 p.m.

Make eye contact with representatives and have confidence.
Make sure to send thank you emails to companies with whom you interview.