HEHS German students go on summertime exchange to Germany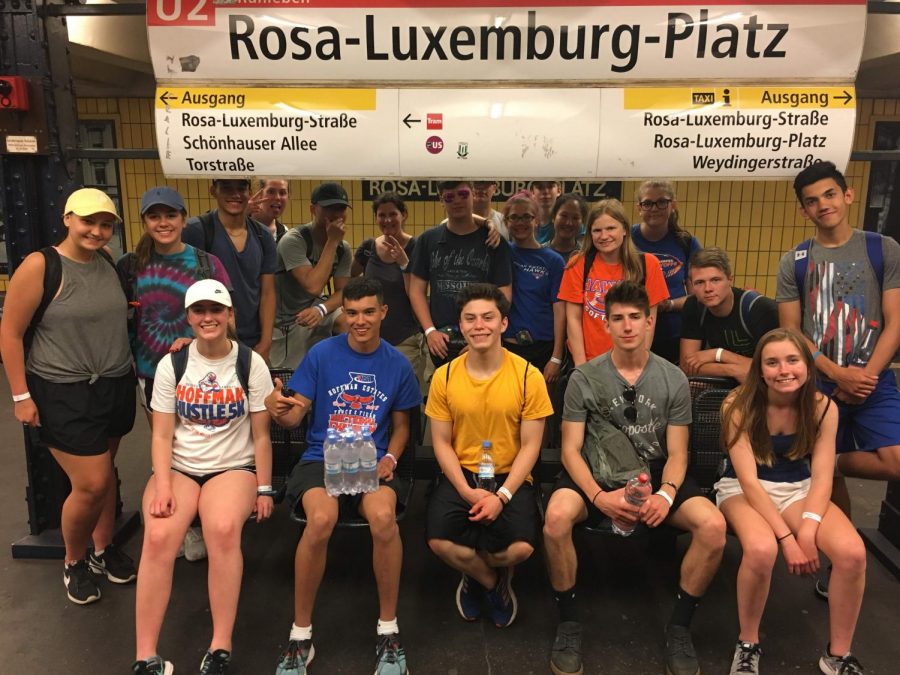 Jarrett Kolodij, Staff Writer
November 4, 2018
"It's something that no one regrets." These are words from the German Teacher at Hoffman Estates High School, Frau Brew, when asked about the German Exchange program offered at the school.
Every other summer, students enrolled in German at HEHS have the opportunity to go to Germany and Austria for 16 days to explore the countries. The average cost of this trip is about $2,750, with $2,500 of that being airfare and other expenses and the remaining $250 being converted to Euros to use on the trip.
Some students bring more money along, but some choose not to bring any money. This relatively low cost for the trip is achieved through Brew being the travel agent for the trip.
"I enjoyed doing the travel arrangements myself because I'm sure we're doing activities that the students will like and I'm saving families money in the process," Brew said.
The students that went on the trip all had rave reviews due to the activities they were able to participate in. Four students that went on the trip include Stefan Knappick, Madison Barnes, Erin Underwood, and Molly Barnes.
"[Germany] was great," said Knappick. "I wish I could stay there."
While overseas, the students got to eat authentic German cuisine, see the amazing architecture throughout Central Europe, and experience the Alps.
"[It was the] best thing I've ever done," said Underwood. Both Molly and Madison shared that sentiment with her.
The food they ate ranged from Döners, which are German gyro-like kebabs, to Wienerschnitzel, which is fried and breaded veal, and to Kartoffelpuffers, which are potato pancakes.
The pacing was also said to be perfect for the length of the trip. It was fast enough to be tired at the end of the trip, but not too fast to where you would be stressed out about getting to your next destination. They spent 2 nights in Reykjavik, 1 night in Berlin and Prague, 2 nights in Vienna, 8 nights in Munich, and one night in Salzburg to finish off the trip. The stops in Reykjavik and Prague were unusual for the trip, however.
All of this isn't to say that there were some issues along the way. One student got injured on the trip and a couple got separated from the group, but everyone enjoyed the trip as a whole.
German students also have the opportunity to come to the US. They always leave the US loving the school spirit, outgoing people, and Americanized foods like Taco Bell, Chipotle, and Panda Express.
This is a program that everyone raves about once they participate in it. Is it an adventure you would embark on?