HEHS boys basketball record strong despite early challenges
Although the Hawks Boys Basketball Team has faced numerous difficulties and setbacks this season, our team has persevered through all of the challenges thrown at them and is currently performing brilliantly with a 17-4 overall record.
After making a strong start to the season by beating Woodstock 66-40 and winning the Thanksgiving Tournament, one of the starters on the team tested positive for COVID-19. The other four starters were in close contact with this player and were also all unvaccinated. Consequently, none of the starters could play for 2 weeks and the Hawks season was postponed.
"The mood was down at first but this was also an opportunity to come back and restart the season with a fresh mindset. We took a couple games off to practice and master our game so that we could conquer our next opponents," said Luka Sparavalo, senior small forward. 
After the forced hiatus in the middle of the season, during which the Hawks "tied up inconsistencies" in the words of Sparavalo and underwent a period of self-reflection, the Hawks returned with a renewed vigor, winning eight games in a row and winning the Holiday Tournament.
The Holiday Tournament victory was particularly special to the team, and was Sparavalo's favorite moment of the season.
"The most memorable moment of the season for me has to be Darien [Irvin's] game winner against Evergreen Park. It was crazy! The atmosphere was insane and it felt rewarding," he said.
Many of the current Varsity players have played together for all four years in the Hawks basketball program and have developed deep friendships.
"The relationships I made with my teammates and coaches are some of the best relationships I have," said Preet Brahmbhatt, senior and a captain of the team.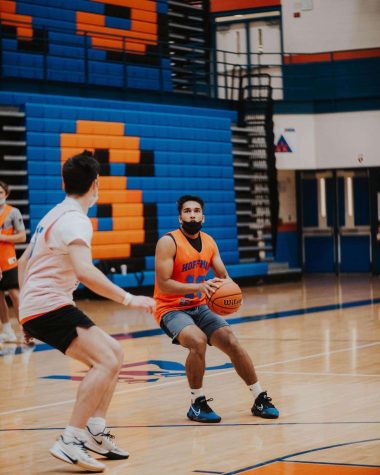 Along with playing the sport he loved, being a captain has taught Brahmbhatt several important life skills as well.
"I learned a lot about time management and my leadership skills have increased much more also," said Brahmbhatt.
Our Hawks have been exemplary this season, not only for their performances on the court, but also for how maturely and ably they handled the disruption to their season. Now the Hawks' focus is turned towards continuing their bright start to the season and winning their conference to cement their legacy as one of the best Hoffman basketball teams of all time.