Who's WHOSSICAL in the musical?
Seussical the Musical is here! Check out this preview of the stars and show.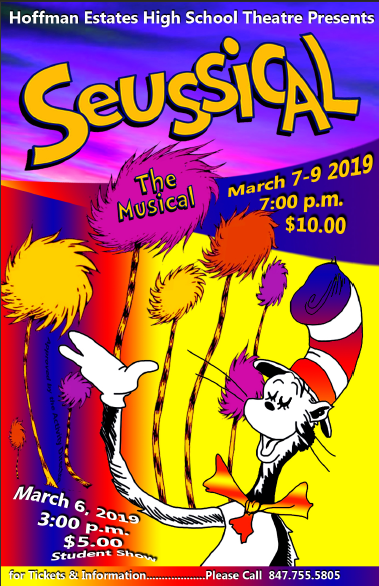 Jodee Capati, Christopher Ramirez, and Bu-turab Ahmed
March 6, 2019
This year's musical is a well-known classic to people who believed in their imagination and people who have limitless creativity. This year's musical focuses on the fictional characters that brought different perspectives about life. This year's musical is the Seussical.
What's What?
When we look at the posters around the school, we see the word "Seussical," accompanied by a unique drawing of a cat wearing a red-and-white striped hat. Although most of us can immediately spot it's about Dr. Seuss's creations, some of us might not know too much about this Dr. Seuss individual.
Dr. Seuss is a children's author who created many classics, like Horton Hears a Who and The Cat-in-the-Hat stories.
"This show's been very popular in different theaters and I thought it's a challenge for them (actors), but they can shine in their solos," said Director Jason Stevens, English Department.
The musical contains the popular creations of Dr. Seuss and sums up into one whole "seussical." The Cat-in-the-Hat role, played by Andrew Luzwick, leads a young boy through the stories and eventually, becomes a part of the stories himself.
"The Cat-in-the-Hat is the narrator of the musical. The main story follows Horton and Jojo (protecting) the sour kangaroo," Stevens said.
"They're pretty interesting and there are many funny  scenes," Luzwick added.
Who's Who?
Being an in a musical isn't easy. Like tech crews, there are many things that are needed to be fixed to make the musical successful. Memorizing lines, getting in beat with the Pit Orchestra, and playing into the role of your character. There are a number of challenges.
People to memorize lines and learn choreography. "I like to prepare by listening to the Broadway version of it," said Sara Bendel, sophomore, who is playing Ms. Mayor.
"I need to keep the harmony with the other bird girls. I have to stay in tune with the pit," said Paige Zapinski, junior, who is playing one of the bird girls.
Being a part of the musical takes commitment. Every hour is valuable to perfect the play, and an actor must be the character he or she portrays.
"It's about coming together and  having a really good time. People will love and enjoy [a little] happiness brought to [themselves]," said Allison Acevedo, senior, who is portraying a bird girl.
"I love doing theater especially because it's like we're a big family," Bendel added.
How's how?
From learning lines, songs, dance routines, and stage directions to keeping up with homework and family obligations, bringing this show to life involves much juggling on the part of the players.
First it begins with dedication and long hours rehearsing; practice typically runs until 5 p.m.; however, during the final weeks leading up to this week, the cast will collaborate even later in order to work on the finishing touches.
"I've been practicing a lot, but it's frustrating because I'm in harmony with the other two other bird girls and it can be difficult to find my notes,"  said Savannah Sherrell, sophomore.
Most of the work in perfecting the show is done by students. "I help guide the kids, but I also let them be themselves," said Stevens.
When's when?
"Seussical" happens for 4 consecutive days— 5 shows. Beyond the students shows, which start today, students, staff, and the community can see the show March 7 through 9.  The show starts at 7 p.m., and the cost is $10.