A behind-the-scenes look at how HEHS Coronation came to life
On September 23, Homecoming Coronation took place at HEHS. Coronation is an elegant event which involves the 12 seniors on homecoming court presenting themselves to the school community. Ultimately, this extravagant occasion reveals the two esteemed honorees and the two congeniality winners.
To achieve the elegance and formality of this celebration, student council members organized and hung up decorations and ensured everything was strategically coordinated.
"It was long, but it was worth it to see the end results," said Aesha Patel, sophomore and a student council member.
It was a very precise process. There were many delicate details and different components emphasized. 
"I found the decorations very enjoyable," said Brendon Gallardo, a sophomore who attended coronation.
Homecoming court members spent the majority of the school day practicing for coronation, everything from their pace as they walked across the gym floor to the order they would enter the gymnasium.
Finally, the long anticipated announcement had arrived. The honorees, Maya Schmit and Sarah You were revealed. Additionally, the congeniality winners were recognized as Lucas Mytch and Jillian Rae Cuartero.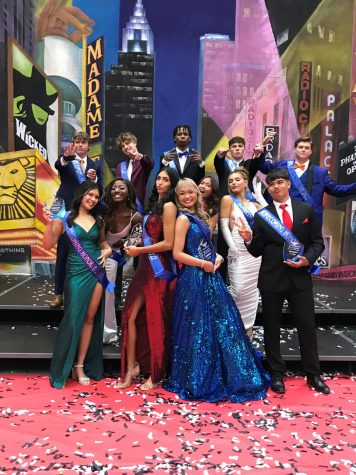 "It all felt very surreal, walking up in the middle of the assembly and having all my peers watching," said You, senior.
The court members were very enthusiastic for one another and supported each other in the results of the voting. 
The excitement went beyond just the members of the court, though. The gym full of spectators were engulfed in the ecstatic atmosphere. 
"I felt happy for the honorees," said Gallardo.
There was so much excitement, especially because this was the first all-school attended coronation since the pandemic was at its peak. It was uplifting to see the HEHS community unite for a unique tradition unlike many other schools.