HEHS takes first place at Building STEAM event
The Building STEAM event was hosted at the Schaumburg Prairie Center for the Arts.
Hoffman Estates High School took first place at the Building STEAM event held Thursday, February 21st. Hoffman's creative students put a lot of work and imagination into their piece, From Peace to Chaos, and it truly showed.
"My goal was to create something that had never been seen before out of the material given," said Cameron Ginter, sophomore. "It was important to me because working on the project with a team added perspectives that I would have not seen myself when building this project."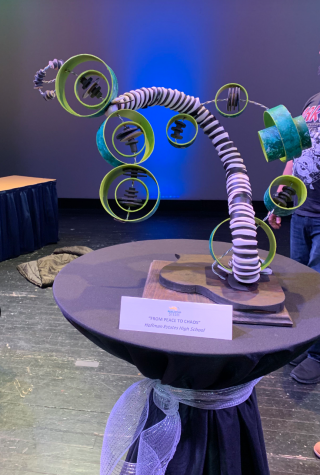 The team of included sophomores Ginter, Shivam Kaushik, and Sean Knueven, and juniors Tori Spitz and Katie Segal.  Art Department Chair Juan Medina helped the students with their creation.
They made this project as an entry into the Building STEAM event hosted at the Schaumburg Prairie Center for the Arts. Building STEAM this year consisted of eight separate high schools and two local artists, all displaying their incredible work.
There was a People's Choice Award, 3rd, 2nd, and 1st Place awards for the high schools, and a live auction, which community members who attended the event were invited to participate in. All proceeds from the auction are then used to support the Prairie Center's art programs.
After all the hard work, effort, and imagination they put in to their piece, the HEHS team took first place. Their original ideas and beautiful execution allowed for their project to really stand out at the event. From its bright colors to intricate details, this sculpture was truly a showstopper.
Because of the team's determination to do well and their ability to work together, they were able to generate a creative design and execute it in a way that included everybody's ideas and perspectives.
When asked how having a team made building the sculpture a better experience, Ginter said, "They add a sense of new choice to this project and ideas I couldn't have come up with myself. I think having a team for this project is what made this the best."
These hard working students had to really learn to collaborate with one another and combine their ideas in order to make this project a reality. Through teamwork and persistence, they were able to design something one-of-a-kind and gained amazing experience in the process.
"The project itself is very much like the real world where everything isn't gonna go your way and you learn to compromise," said Kaushik.
The HEHS team really showed their grit in building such an amazing piece of art. By being able to innovate and use every teammate's artistic abilities, they made a first place winning sculpture, and they definitely earned it.