Resource officer already making an impact at HEHS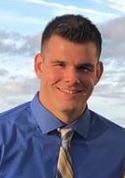 Unique Figueroa, Staff Writer
March 18, 2019
This Hoffman Estates High School detective wants to help people and make an impact on students' lives.
"My role in the school is to ultimately keep the school safe, but to also be someone's outlet," said Richard Rebmann, HEHS school resource officer. "I want to hopefully make an impact on someone's life."
Rebmann had to deal with some of his own tragedies. He had to deal with his mother who suffered substance abuse for many years. He also had to deal with his mother passing in December.
He wants students and people to know "we have families too ," he said. There's a person under the vest, under the uniform. Some people tend to forget cops are human too.
Detective Rebmann was also a successful football player. He went to Fenton High School, where he then continued to play football at McKdenree University. He also tried out for the Chicago Bears of the NFL and Edmonton Eskimos of the CFL. He also got a Bachelor's and Master's degree in Criminal Justice. He became a cop in 2016.
"Having a resource officer makes me feel good because hearing others experiences with Officer Rebmann makes me know we have people at Hoffman who want to keep the school safe," said Mya Taylor, a junior.
Taylor was doing her own research on school violence. She feels that knowing there is a cop in the school could make a difference and makes her feel safe.
"I feel very comfortable asking him for help when needed as he has always been willing to assist whenever needed. He brings a unique perspective and is very understanding of the fact that we are dealing with young people in high school who sometimes make mistakes," said Erin Hettinger, dean of students at Hoffman.
Hettinger looks forward to having Detective Rebmann at HEHS for the next three years. She also believes it's good for students to build a positive relationship with law enforcement. She says it will help break those stereotypes about cops.
"I feel safer in school knowing Officer Rebmann is here to protect us," says Malachi Blackwell, a junior.
Rebmann provides safety to the school and its students. A little detail about Rebmann is he actually wanted to be a history teacher. He hopes that when younger people read this they know there is a person under the vest and that not all cops are bad.