Brooklyn Fuscone breaks personal record, pool record
Brooklyn Fuscone, senior on the HEHS Girls' Varsity Swimming and Diving team, proved to everyone this past Wednesday that the pandemic is not slowing down her season as she broke not only her personal record but Schaumburg's 6 dive pool record as well.
She set a score of 250.25, with Schaumburg's previous record being 234.10, set in 1981, and her own personal record previously being 245.30, which she set last year in a meet against South Elgin.
"All of my meets and practices, good and bad, led me to this point. Dealing with the consequences of COVID-19 has made me more mentally tough and motivated because I know that I could lose everything again at any time," said Fuscone.
One may think that with the many cancellations caused by coronavirus, this may be a particularly difficult season for many athletes, but Fuscone has shown great perseverance through it all.
Without the opportunity to dive during the first few months of summer, she knew she was going to have to work particularly hard when she got the chance again, but it's this motivation that she believes made her stronger.
"When I found out I was going to have a high school season, I was in the best shape, physically and mentally, that I've ever been for diving, " she said.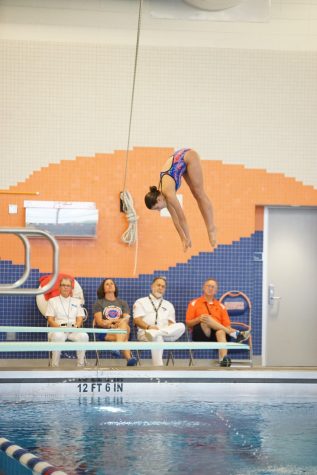 It's clear that her hard work has paid off, but this season is definitely still very different than other seasons.
She's had to make plenty of adjustments to prepare for the format of this season, and it's still uncertain if conference and sectionals will be held this year. On top of that, spectators are no longer allowed to be at the meets; instead, spectators watch from home through Zoom or YouTube Live.
"It's definitely weird not having my family or friends at meets to cheer me on, but I have my coach Dawn and my teammate Leila," Fuscone said.
The support system she has with her coach and teammate is especially important this year, and it's amazing to hear how the HEHS divers help to motivate each other during this difficult time.
Even through a global pandemic, these girls are working incredibly hard and giving the season their all.
Fuscone's positive attitude in particular has brought her great success and made this year particularly memorable for her. "Despite the coronavirus, this is by far the best swim and dive season of my time here at Hoffman. I have my team, coaches, and hard work to thank for that."
HEHS is proud to have Fuscone representing our school and showcasing the committed mentality of our athletes. It's clear that nothing is going to hold her back this year, and we look forward to seeing what's to come in her diving season.