Class of 2021 keeps sights set on finishing year strong
Watching the seniors graduate and finish off their final semester virtually last year, I think we all sympathized with their situation.
Now, as a senior myself, I'm realizing even more just how hard it's going to be to say goodbye after a year where, for the most part, we were at home.
The graduating class of 2021 has had their fair share of difficulties, trying to adapt to e-learning and having to really focus on their own motivation to get things done.
Senior Hamnah Razzak explained some of her own struggles. " I'm a pretty nostalgic person, so I'm always whining about how everything is the last something. I wish we had more of a regular senior year, especially during second semester."
However, Razzak also realizes that we have to make the best out of these situations and appreciate what we get, stating that, "there's always something to be positive about."
Yes, this year has been tough, but I think it's also fair to say that we've had lots of new experiences and there will be no shortage of stories to tell for the future.
Many older students have had to deal with a lot of changes from what they'd normally be excited for during the school year, but that doesn't mean there aren't still things to look forward to.
A lot of students have emphasized their eagerness to take the next steps and keep moving forward. "I am very excited to finish high school because I get to study what I'm passionate about in college," said senior Jonathan Pitchan. "I can't wait to create music and learn more about technique and style. I've been waiting since junior high to attend music school."
Although our senior year wasn't exactly what we expected, for many of us it's been an insightful look into discovering what really motivated us, and with college decisions on their way, it's an exciting time for many.
Thinking about future ambitions and goals is a great way to stay focused on the positive, but for those who have had more difficulties than usual with this, you're not alone.
Everyone is learning as we go through this process, and it's hard to take a step back to look at the bigger picture.
When asked about what's helped her during this challenging senior year, many students explained that they've used this time to dive into hobbies an find what activities allow them to relieve some of their stress.
"I've been using art to help me cope with this untraditional senior year," said Geraldyne Guzman. "I created a collage on my bedroom wall out of college pamphlets that I got sent in the mail."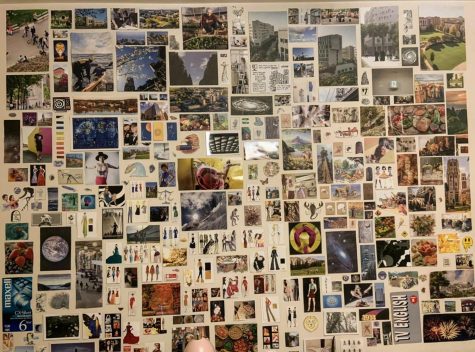 Guzman shows her creativity by taking these seemingly endless letters, which have created pressure for many, and incorporating them into something beautiful, reminding us that everything is what we make of it.
Thinking about leaving high school after a year like this is hard to face, but many seniors are choosing not to let the work they've put in so far end in vain. As graduation and college quickly approaches, it's important to remember your own goals and passions, not letting circumstances outside of your control influence the way you end your high school experience.
Senior Nick Aleksiev believes it is important to stay focused on moving forward as opposed to focusing on the past.
"We can't create many last year memories. Why not finish high school by working hard and having memories of academic success?"