AP Bio students gain hands-on experience during labs
Seniors in AP Biology at Hoffman Estates High School have had to deal with shortened blocks, online learning, and little to no hands-on experience. However, the ability to come in for Academic Support Sessions in the afternoons has provided these students the opportunity to come in for a few select labs. With the exception of a few, most students have attended these afternoon labs.
"Yeah, I thought they were a good experience," said Dhruv Patel, senior. "I really thought that we were able to do more hands-on laboratory work and procedures, which was beneficial."
Patel, who is planning on pursuing a career in medicine, believes it was beneficial to have the opportunity to apply what he has learned from class and the books.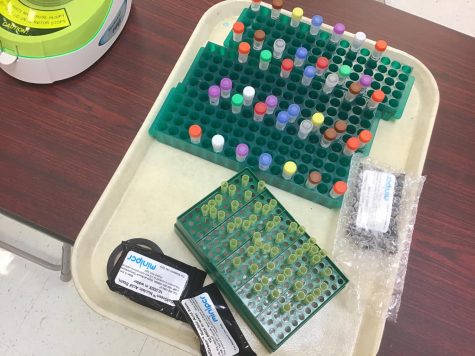 "It's a valuable experience in addition to just the regular curriculum," he said. "It also helps you understand the concepts we learn in class better."
Although many of the more complex and group labs were unavailable, the chance to come in and do some of the simpler labs has still provided the students with many valuable lessons and has helped reinforce some of the concepts learned in class. 
The labs also provide an opportunity to explore some topics not covered in the regular curriculum. Due to the school days being shortened, the AP Biology curriculum has been largely condensed. Many of the extraneous "fun" topics are being set aside to try and prepare the students for the upcoming AP test in May. However, these afternoon labs provide a time for the students to learn these extra skills and concepts, like learning how to pipet and perform a gel electrophoresis.
Additionally, some students were just happy to change their setting. "It's great to finally get out of the house, especially if they have been completely remote for a whole year now. I finally got to see my friends and teachers again," said Daniel Meyers, senior.
Although hybrid learning has been an option for a large portion of the school year, many students still choose to learn remotely. The afternoon lab sessions offer a chance for these students to have social interactions in a safe and productive environment.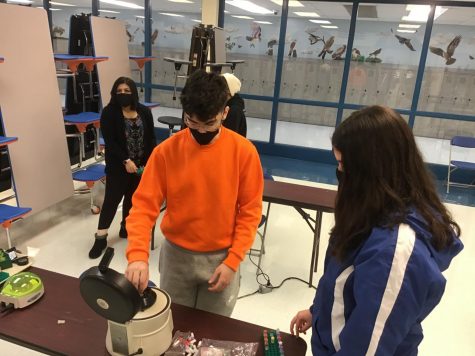 Although these labs are providing a valuable experience for AP Biology students, not everyone is taking advantage. A few students choose to remain at home, for various reasons. In order to change this, Patel said, "having labs that involve more student interaction like the HIV lab would probably encourage more students to come in."
Many of the labs so far have been mostly individual work where each student has a procedure to complete. However, a few, like the HIV lab mentioned, have involved students interacting more with each other, and promoting a more fun, casual environment. 
Unfortunately, there is a limit to how casual these labs can get, as Meyers's idea of "free pizza for all of the cool kids that come, and maybe a DJ and light system," probably won't be happening any time soon.