More than a dancer
While the poms team works hard on dance routines, they also spend time on strength training
Some may think that poms is simply a group of girls who dance; in reality, it is much more than just that. The poms team deserves proper recognition for all of the effort, talent, time, and skill invested in it by the performers. Poms takes a great amount of both physical and mental dedication.
"Poms requires arm strength, endurance, and a lot of muscle and strength," said Olivia Lunak, a senior on the poms team. The girls also spend lots of time working out and stretching, explains Lunak.
The coaches, Kate Giglio and Anne Van Grondelle, agree that it is the expectation that the choreography the team learns at the previous practice should be memorized and maintained by the next time they come. Many of the girls have been dancing since a young age, so memorization is a skill they've learned to acquire over the years.
"It takes a lot of effort because it's after school and it's very tiring. On top of that you have to go home and do homework, so it's definitely time demanding," said Stefani Lipetri, senior.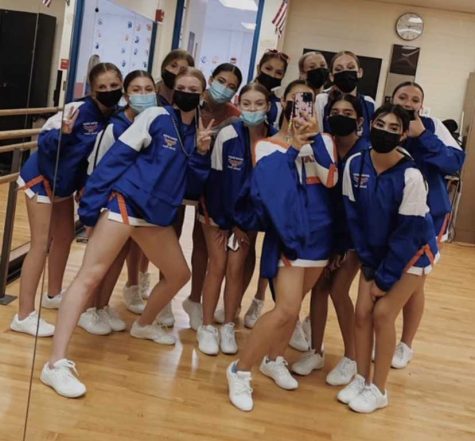 Bravery is also a considerable attribute of being on poms because the team has to perform in front of the whole football stadium. Senior Annel Wipachit says that before a performance she gets very jittery and nervous. Wipachit also explains that she zones out and focuses entirely on the dance while performing, then is relieved and proud once
they've finished the performance.
The girls all similarly express that poms takes an overwhelming quantity of mental and physical capacity and can be draining at times, but is worth it in the end because there are positive outcomes from all of their hard work and dedication.
One of these positive outcomes is that the team comes closer together and develops strong connections.
"My teammates are my family," said Kendall Burdick, freshman. Burdick also says that she's learned that a key component to succeeding at poms is that one has to practice as if it's how they are going to perform. This means always giving 100% effort, even if it's just a practice.
"Poms is a great experience and creates a family within school," said Juliana Klups, freshman. Klups explains that everyone who is a part of the Poms family has been very supportive and welcoming. Other team members agree.
"This team makes me very happy," said Lunak. "We've become very close and created a bigger program."
The main highlight for many of the girls, though, is being able to perform and express themselves in dance. "I love dancing and sharing what I can do with others," said Lipetri.