Girls cross country team's efforts lead to some personal bests
Effort and progress are two terms that are applicable to this year's girls cross country season.
The girls on cross country ran in a number of races this season and showed considerable progression throughout it all. Each race included a total of three miles for varsity and sometimes two and a half miles for junior varsity. The team put in a great amount of effort into races and practices.
Practices usually include either going on long distance road runs or working out on the track. Practice takes place every day after school during the season in almost any kind of weather. Despite this obstacle, the girls are constantly persevering through heat, cold, and rain and come prepared for anything.
"My whole high school career has pretty much been taken over by running," said Valerie Daniel, a senior on varsity. "I spend at least two hours after school everyday at practice or at the trainers. Also, my Saturdays are pretty much
spent at a meet while I'm in season."
All of the team's preparation and practice has paid off. At the conference meet on October 16, almost every individual achieved a personal record and saw a significant improvement in their time. Specifically, twenty-one out of the twenty-seven girls that ran had either a season's best or reached their overall personal record. Anyone who didn't get to their personal record missed it by only tenths of a second.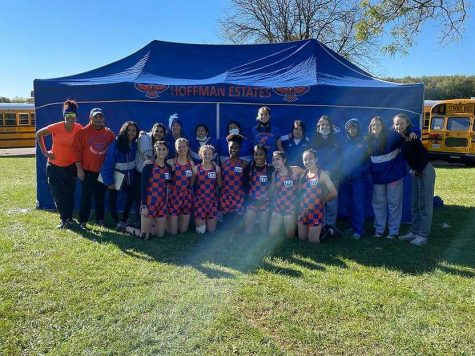 The next weekend after the conference came regionals where Valerie Daniel, Raegan Davis, Nicole Vlahov, Anna Wakabayashi, Bella Ortega, Bella Wehrle, and Jocelyn Santos ran and represented Hoffman Estates. These girls are all valuable assets of the cross country team and are dedicated to their sport.
All seven of the girls who ran in regionals did an exceptional job. Probably the most recognizable aspect of this race was that Valerie Daniel became a sectional qualifier for the second time in her career.
"I feel proud of myself, accomplished, and excited to represent our school at sectionals," said Daniel.
The girls are not only excelling in races and working hard in practices, but also have developed a very welcoming and fun atmosphere. All of the girls have formed a bond with each other and are always pushing each other to get better. They've created a positive environment and support system for one another.
"If you want to pursue running, do it," said Daniel. "It's challenging, but it's nothing you can't handle. Sure, it tests your limits and seems scary, but honestly, you find some of your best friends and figure out yourself along the way."