HEHS student becomes sneaker entrepreneur
When most students were doing their homework, Sunny Trivedi, senior, was poring through sneaker websites looking for good deals. When most students were hanging out in the media center and relaxing during Seminar, Trivedi was communicating with international shoe sellers in Europe and Asia to track the shipping of his bulk merchandise. When most students were sleeping in on the weekend after a tough week at school, Trivedi was waking up at 4 a.m. to attend a sneaker release. These are just some of examples showing the uniqueness and dedication of Sunny Trivedi, sneakerhead extraordinaire.
Trivedi first heard about the sneaker resale business in 2018, when he was a freshman in high school.
"There was this Yeezy [a fashion collaboration between Kanye West and Adidas] pack that was released. One of my family members showed me the release. I wasn't necessarily that interested in the shoe, but when he showed me the retail price, it was like $220," said Trivedi. "At the time, I was like 'that's crazy expensive'. [Then I saw that] the resale price was $1000 plus. He told me how I could acquire the shoes at the retail $220 price and then resell them for that $1000 plus price." 
From that conversation, Trivedi launched his business, learning the ins and outs of sneaker reselling, a seemingly easy task.
"Obviously, if it was as easy as that [buying shoes for low and selling them for high], anybody could do it. I learned specific tactics that I could use to prepare for releases," he said.
Since the demand for certain sneakers is so high, Trivedi would have to wake up early on release days at 4 or 5 a.m. to try and be the first one to acquire the shoes being released and beat the crowd. Later, Trivedi used a 'sneaker bot' to expedite the process of finding available sneakers. Sneaker bots are software that are designed to help people buy large numbers of sneakers in a short amount of time.
Trivedi's day-to-day routine as a sneaker reseller was intense. "At the peak of the business, when I was doing pre-orders and had my own bot, I would generate proxies [intermediary software used with a bot] after school for a couple of hours… On release day, which would be the busiest, I would run my bot and make sure that everything is going well. In summary, it was a couple hours of work every single day, mainly to maintain the bot."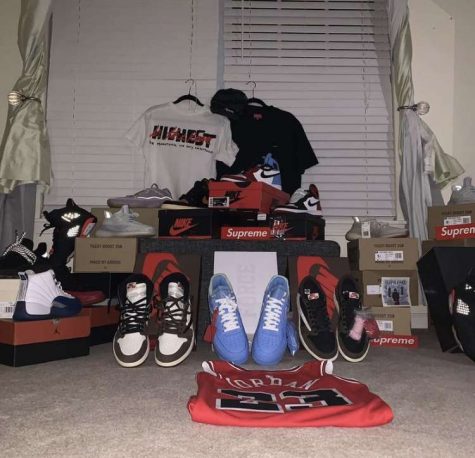 This hard work has provided Trivedi with some golden moments, the most memorable of which was his acquisition of the Off-White Nike Air Force 1 MCA shoes.
"The Off-White Nike Air Force 1 MCA was a Chicago-only release. This happened in July 2019, when my business was young. How it worked was that you had to be in Chicago during Fashion Week, and the sneaker would drop at a random time. I saw the shoe drop on the Nike Sneakers app on my phone, changed my location to Chicago using my VPN, and got the shoe. I still have that shoe to this day, just because it's very memorable," he said.
Along with turning a significant profit in his resale business, Trivedi said he also gained a lot of intangible qualities and grew as a person from his experiences.
"I've learned a lot about organization from this business. I recorded every single detail about my purchases in a spreadsheet just so I knew how profitable my business was, and if I had a poor month, why I had that poor month."
Trivedi also learned the importance of communication and marketing in business from his sneaker resale experience, using Instagram and Twitter to connect with both potential customers and sellers. 
"I would have to post a daily post on my preorder Instagram page to let existing customers know that I am doing a preorder for a certain release and to get more customers. I [also] constantly replied to emails and messages for bulk buying because bulk buying was usually international, so I had to coordinate with Asian or European sellers to get shipment information," he said.
However, this year, Trivedi decided to take a break from the business. "The main reason for [stopping] is because there are a lot of changes going on in my life right now. College [applications] are a lot of work and SAT work was a lot this year too. I just couldn't manage it, so I slowly toned it down. Also, I lost some motivation because I was getting bored of doing the same thing over and over again. Even though it was very profitable, I just didn't find that same excitement and enjoyment that I [once] did."
Trivedi is not completely turning his back on shoes, however.
"I definitely plan on getting back into it, at least the basics of it, where I'm just sitting at the computer going for the sneakers. I also want to take this knowledge and the experience that I have from this business and move onto something newer," he said.
One thing is for certain: if you want a pair of shoes, chances are Sunny Trivedi is the guy to talk to.