Finishing strong
Girls volleyball team shows improvement this year
The girls volleyball team demonstrated consistent effort and pleasant camaraderie throughout their season which consisted of hard work, dedication, and perseverance.
"We had a pretty good record compared to the last few seasons," said Elyssa Wuerffel, senior.
The girls endured triumphant victories as well as some losses throughout the season. Wuerffel explained that it was a more successful season than in the past.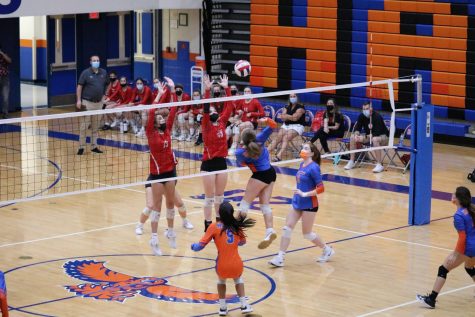 In addition to the admirable results of this season, Maya Schmidt, a junior on varsity, says that the team has progressed in their overall gameplay and most people on the team can agree. By the end of the season, the girls all had improved their volleyball skill sets individually and together as a whole team.
"As a team we got closer to each other," said Schmidt. The girls all supported one another throughout the season, developing new friendships and connecting with each other along the way.
Not only did the girls demonstrate positive collaboration to help each other improve, they also worked hard and put in the effort to become better players. Wuerffel says that the team practiced two hours every day and would always put in maximum effort.