HEHS Engineering Team's passion, perseverance equates to a big win
The HEHS engineering team wins the Martin Klein MATE Mariner Award
The HEHS engineering team won the Martin Klein MATE Mariner Award at the MATE International ROV Competition which is a competition created to challenge and inspire students to learn and apply science, technology, engineering, and math (STEM) skills to solve real-world problems.
The team explained that each year in this competition, a proposal is constructed with requests that target issues developing underwater. This year, the focus, similar to last year, was preserving the nearby environment and cleaning the oceans. The robot they build should complete tasks working to accomplish this proposal. The teams present their machine by testing it in the pool and then are judged based on that performance.
The award is given to the team or individual who "has a genuine passion for engineering, for not just being at the competition and winning, but genuinely caring about your passion," said Julia Chom, a member of the engineering team. The team competed against many different levels of opposing teams, include college-level competitors. Despite the challenges, HEHS impressed the judges and won the prize.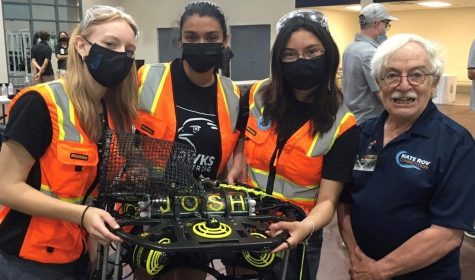 "The biggest thing people don't get is that this machine is made almost entirely from scratch," said Wayne Oras, the engineering team coach. The team is not given a kit or a template of what they're supposed to create. They use what resources they have access to in order to construct parts for their robot which can enhance their need to think creatively and be resourceful.
Vanessa Huerta, team member, explains that the team has improved drastically from when she joined three years ago. She says that they have made many new advances and intricate adjustments to the design of the robot throughout her time here.
"Improving from past mistakes is always one of our challenges," said Chom. Huerta added that the team is trying to use their previous mistakes as motivation to improve even more for future competitions.
Winning this competition is a tremendous accomplishment for the team, especially considering they're one of the only all-female teams that competed. Going into the competition, they had thoughts of hope and also nerves. "I was nervous being a small all-female team but excited to meet people with passions like mine," said Chom.
"I was excited and proud to be back for my second year," added Huerta. "I wanted to do better than previous Hawks Engineering teams."
The team meets often in order to prepare the robot. Usually, by the end of one week they will have spent about nine hours working on their machine and other projects. The members of the team and their coach all agree that to be a good engineer, one has to show perseverance, keep a positive attitude, and think outside the box.