HEHS hosts Unified Track and Field for first time
Hoffman Estates High School hosted the 2022 Unified Track and Field meet for the first time. Athletes competed in 100, 200, and 400-meter races, as well as field events such as shot put and long jump.
Several Hoffman Unified athletes had stand-out performances at the meet.
Yasch Patel, freshman, won gold in the 200, along with competing in the shot put event. Patel was also a member of the Unified Soccer and Basketball teams, and cited running and hanging out with friends as his favorite parts of being a Unified athlete.
Another Unified athlete, Dominic LaPrairie, sophomore, won gold in shot put. LaPrairie also enjoyed competing, but said his favorite part of the meet was his ham sandwich from Jersey Mike's.
Nyla Thomas, senior and Unified sponsor, competed with the Unified athletes in the 400-meter relay race and long jump events.
"Hoffman members performed excellently at this meet. Although they [the Unified athletes] did an outstanding job we did not consider this event to be about the fastest runner," said Thomas.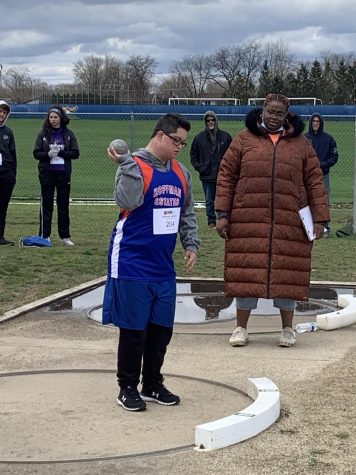 Rather, the Unified track meet was more about the athletes having fun with their friends and celebrating their athletic achievements.
Ashley Surin, sophomore, Unified athlete, agreed with this sentiment, stating that her favorite part about the meet was cheering on her friends when they were competing. This was Surin's first Unified meet, and she achieved a new PR (personal record) in the 100.
Jaylan Johnson, sophomore, competed in the 4 x 400 relay race and also enjoyed talking with his friends about running during the meet.
Overall, the Unified Track and Field was a major success as students from around the area had a great time running, throwing, and connecting with their peers from other schools.
Regarding future Unified sporting events, the Hoffman Special Ed Department welcomes volunteers who want to help make the Unified athletes' experiences even more special.
Those who have volunteered in the event have learned the value of being active participants during the event. "My advice would be to definitely come out and participate. Every runner/volunteer had a job and all hands on deck really made this a great experience," said Thomas.
Surin also had a piece of advice for students who want to compete in next year's Track and Field meet: "practice more!"
We will be looking forward to seeing Surin and the other Unified athletes continue their successes in future competitions.