Boys gymnastics competes at State competition
HEHS hosted the IHSA Boys Gymnastics State Tournament on Friday May 13, 2022. After a strong regular season for the HEHS Boys Gymnastics team, in which four gymnasts qualified for independent events at State and the entire team qualified for the team event at State, our gymnasts were excited to showcase their amazing capabilities in their home gymnasium in front of their fans. The team performed brilliantly at the tournament, and ended up placing 5th as a team.
For Owen Carlson, the only junior on the team, competing at state was his favorite part of the season.
"The biggest highlight of my season was the ability to compete with the best gymnastics team I've ever been with at the state meet and taking 5th in the state. The team dynamic is insanely cool. I'm really good friends with everyone on the team and I wouldn't trade it for the world," said Carlson. 
Carlson was an all round competitor, meaning he competed in all of the events (12, floor, horse, rings, vault, p-bars, and Highbar) for the team competition at state. Carlson also individually qualified for the Horse, Parallel Bars, High Bar events at state. 
One of the major reasons behind the gymnastics team's successes is this aforementioned positive team dynamic within the group.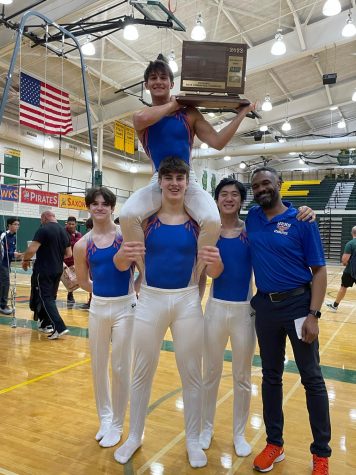 "Everyone likes everyone, we have a lot of fun goofing and joking around with each other, [and] we all support and cheer each other on," said Adrian Zhou, senior, and another member of the team.
The gymnasts are also helped by their desire to learn and improve themselves. In fact, Zhou and his friend Teddy Prasopoulos joined the team in the first place to learn how to do a backflip. Since then, both Zhou and Prasopoulos have competed at State as all round competitors, with Zhou individually qualifying for state in the Horse, Vault and High Bar events, and Prasopoulos individually qualifying for the Floor event. Additionally, Prasopoulos will be continuing his gymnastics journey through intramurals at UIUC.
The state tournament was a somewhat bittersweet experience for the team, since four of the five competitors were seniors and were competing in their last meet as HEHS gymnasts. However, the team definitely ended on a high, with plenty of accolades won by the outgoing senior gymnasts.
The gymnastics team is also always looking for new participants who would like to join the positive culture that is the hallmark of HEHS gymnastics. Participants needn't have any prior experience.
"You don't need any previous experience, just effort. I came in with no experience freshman year and made it to state," said Zhou.