HEHS Badminton season ends with a trip to state
The Hoffman Estates High School badminton team not only has shown great improvement throughout the 2021-2022 season, but they also have shown that they have great leadership skills. Both of these qualities no doubt contributed to the team's advancement to the IHSA State Competition this year. 
Sophomore Alisa Hilaly represented the team at state, competing in the singles event. The state competition was held at Hinsdale South. There were 64 singles players and 64 doubles teams.
"Alisa's determination was what kept her going," said Patrick Swanson, head coach. "Before she went to state, she faced a player from Barrington. She had lost to her and was determined to beat her the next time they met."
Alisa did end up meeting that player again and was able to win both games, Swanson continued.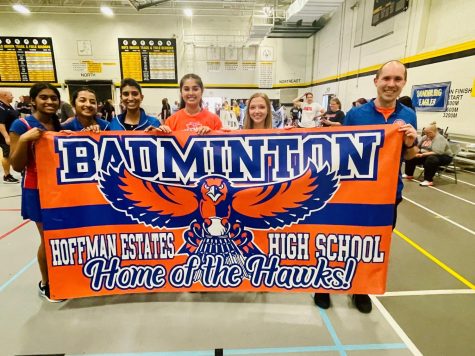 Besides state competition, the badminton team is comprised of supportive individuals. Everyone makes sure that no one is left out and that everyone has a role to play when it comes to games, practice matches, and tournaments. The coaches make sure to give encouraging pep talks before and after a game as well.
"I take pride in the fact that this team is welcoming, and that the experienced players never fail to go out of their way to make newcomers feel motivated and supported," said Anushree Raol, senior. 
Even though the season has ended, the team members said they will continue to cheer each other on. The badminton team makes the best of their time spent together.
"In terms of both playing the sport and having fun together, I'm confident this team will make the most of the time we have [together at HEHS]," said Raol.
Swanson has been a coach at HEHS since 2014 and has said that ever since he's joined, he and his team has qualified for state competition every year.