Behind the velvet curtain
A behind-the-scenes look at bringing the Talent Show to the stage
Say a stranger walks into the HEHS auditorium one night to watch the Talent Show. What do they see? 
Well, first, they'd probably see the Theater Guides. After an exchange of "Good evening!" and "Enjoy the show!" and the sound of tickets ripping, then they'd probably notice the velvety black curtain or the elaborately painted stage. With a turn of their head, maybe they'll see the wire-cluttered tech booth or the endless rows of seats beginning to fill up. Tell them to turn their head the other way and maybe they'll see Jason Stevens, show sponsor, darting back and forth making some last minute adjustments. 
But what they don't see is the hard work that goes into attending the rehearsals for hours at a time. They don't see the dedication that radiates from the souls of the performers even when they are struggling to remember their lines or tripping over their own feet or feeling the itch in their throats grow after hours of practice. 
Most importantly, they don't see the forever bonds that form behind those big, velvety black curtains.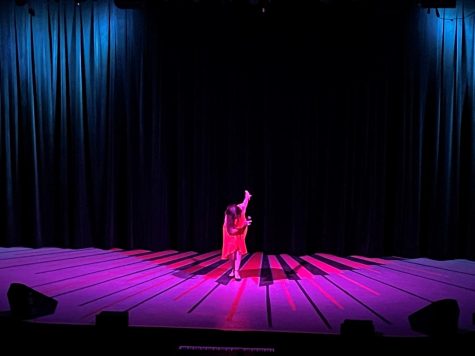 "Everlasting," was the word Senior Sidney Underwood used to describe it. Underwood, who had been involved with not only the Talent Show but the Thespians Club as well since freshman year said that there is not one word in the English dictionary that could describe just how meaningful these shows are. 
"These sorts of performances really do leave an impression on not only the audience, but the other performers. It is the chance to truly take in the sight of the sheer talent that lays dormant in this very school," said Underwood.
Stevens elaborated on that idea, stating that the differences between the performers were exactly what drove them closer and closer together as if they were bound by some kind of superglue. 
"It is also an amazing show because it brings together such a variety of students, who throughout the school day may not necessarily hang out, but when together in the Talent Show, build supportive bonds and friendships with each other," he said.
Vox member Harper Funkhouser agrees. "Spending my afternoons at rehearsals and quickly rehearsing and learning the song for Vox really brought me closer to my friends because it highlighted what we have in common; we all know what it's like to work hard to do what we love."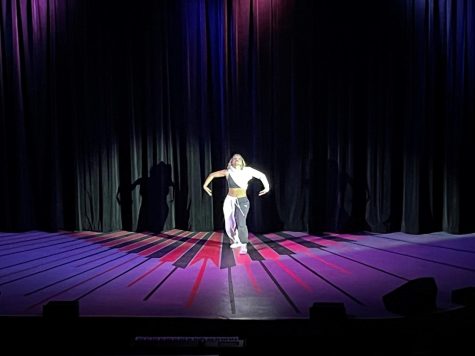 Funkhouser, senior, also loves how the show allows people to come together and showcase their love for their hobbies. 
"It would not be out of the ordinary to see students playing guitars while another beat boxes and another group of students dance to the music they are creating. It showcases what makes Hoffman special, in my eyes," said Stevens.
"It's a special bonding experience," said Erika Bromley, sponsor. "I am so grateful to work with the team of directors, tech crew students, and performers every year." 
"My cast mates bring their all to each and every rehearsal, and when those stage lights go up, we work together seamlessly to entertain our lovely patrons," Underwood continued, highlighting the teamwork that blossomed from those little seeds of connection. 
While the 2022 Talent Show may have been temporary, its memory is everlasting. "Stellar performances done by equally charming people don't leave you," Underwood said. "As the memories of talent shows from years ago still stay in your head will attest. The talent show, while fleeting, lives forever in spirit."