Business Incubator Program offers real world experiences
Students can dread going to class everyday, knowing they are going to sit through multiple lectures and potentially not retain any information. But what about a class where you immediately apply what you learn by creating your own business? With the Business Incubator program, students do just that.
Incubator is essentially a real life Shark Tank. Your team comes up with an idea, brings that idea to life, and then pitches it to a board of investors and potentially receives funding.
"Incubator isn't really a class, it's an experience. The students don't call me Dr. Largo, I tell them to call me Kerri because I'm a facilitator," said Kerri Largo, business department. "We're working together, we're colleagues, we're trying to get a job done and that's the mindset I try to approach it with."
Incubator is definitely a lot of responsibility and teamwork and you have to carry your own weight in your team. It's a lot about learning to professionally communicate with adults like your mentors, business partners, and of course investors.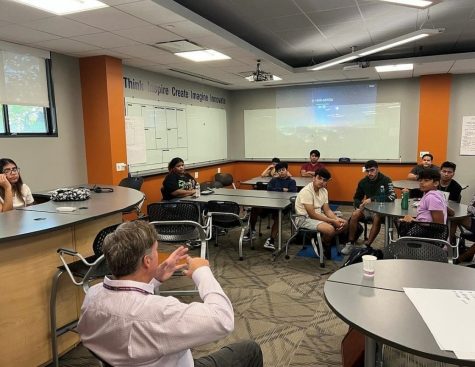 "My favorite part is getting to see some of the real world skills that students learn from the class," said Daniel Canace, business department. "It's pretty incredible to see what some high school kids are able to come up with and the businesses they're able to create. The final pitch where all the hard work finally comes together in one presentation is probably the best part."
Incubator is so drastically different from every other class. It's so much more than learning material and answering questions at the end of a two week unit. It's applying that content to a real life business.
"It's one of the only classes that you take in the content and learn some business stuff then you actually have to apply it to a real life situation," said Thomas Magan, business department. "Instead of just taking tests and answering questions, you actually have to do it." 
Students also get to express themselves by sharing their own ideas. They get to step out of their comfort zones and make real life decisions.
"I enjoy being able to speak my opinion. I like that the teacher doesn't constantly talk at us, but instead has us discuss issues and lets us collaborate to fix them," said Anish Patel, current Incubator student.
It's a class that teaches you so much more than just business. It teaches you about how to work with others in the real world. It's not always smooth sailing, you're bound to bump heads with your teammates at some point, but it's about how you move past that and continue working to accomplish a goal.
"I enjoyed that it was very team oriented. The most valuable takeaway from that class was that we got to talk to our mentors who have successful businesses and they would help us with our ideas and with networking," said Ravi Thakkar, former Incubator student.
The progress students make throughout Incubator is like no other. You have to learn to be comfortable in uncomfortable situations. The entire class revolves around failure and how you can use it to continue to grow. 
"The most valuable thing to me is that you get your own experience of the real world. You get to step into the shoes of a business owner and work to grow it from scratch," Patel said.
Business Incubator gives students a chance to start something they're passionate about but may not be able to do on their own. With the help of teachers, coaches, mentors, partners, and investors, students have the opportunity to make their dream a reality.
When asked to give her best pitch of why students should take this class, Largo responded with the following, "If you want a non-traditional experience that will prepare you for the real world and a variety of careers, this is an opportunity like no other to learn from so many successful people from the real world, not textbooks, and to apply this is like nothing else. Failure is a part of the process. There's so much value in it for students, not just owning your own business."