HEHS Dance Show to showcase steps, beats, heart and soul
According to the Oxford Dictionary, dance is "a series of movements that match the speed and rhythm of a piece of music." But what else does dance mean? Is dance more than just a step and a beat?
Kaylin Prouza, junior, believes dance means community, friendships, and spreading positivity. She
has been dancing for fourteen years and is currently a choreographer for the Orchesis team.
"I have made some of my strongest friendship bonds from being on the Orchesis team these last
two years," she said. While there are many memorable moments, Prouza's favorite memory had nothing to do with actually dancing.
"One of my favorite memories from this season is us struggling to get the chairs out of the band room for our jazz chair dance because of the many doors in between the band room closet and stage doors," she said, sharing how funny the moment was. "Half the time one of us accidentally closes a door, and we all end up getting locked out,"
Senior Alessandra Martinez has been dancing for nine years and is a choreographer for Orchesis along with Prouza. For her, dance offers an opportunity for expression.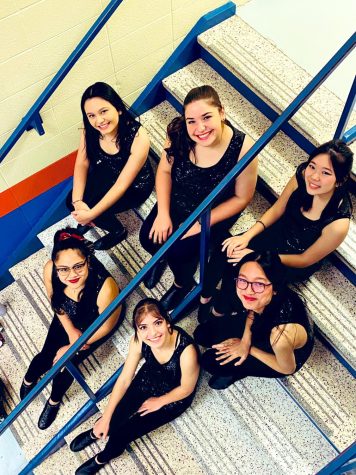 "Dance means the ability to express yourself and your emotions through a free and safe space," she said. "My favorite memories from this season were right before the Fine Arts Assembly and helping each other out and performing with all of our energy."
Martinez cannot settle on just one memorable moment. "My second favorite memory was when we didn't have our music playing, so we all sang each song and practiced our dance at the same time," she said.
Sarah Kuwahara, junior, has been dancing for three years and is currently a choreographer for
Varsity Hip Hop. She said dance is a journey to self-discovery and self-expression.
"Dance means you get to express yourself through the music you love to vibe with. You find a part of
yourself that you've never really known you had," she said.
Dance is more than just a step and a beat after all. With every beat of the music, your heart and soul beat with it.
"The dance show is worth the audience's time because it not only shows who we dancers are individually, but also shows how much we've done to get to where we are now," Kuwahara said.
"Dancers get to show how much fun it is and maybe [they can] inspire others to dance too," added Martinez. "You should watch the dance show because it shows all our hard work and dedication towards
each and every dance."
This year's show features music from Taylor Swift, Little Mix, KPOP, Chris Brown, and tons of all-time favorite artists. The lineup includes Varsity Hip Hop, Orchesis, Dance Club, The Orange Crush Majorettes, and many other group and solo performers.
"Also, it is a great opportunity for you to come and watch your peers express themselves, doing what they love," said Prouza.
The 2023 Dance Show is Friday, January 20 and Saturday, January 21.