Bowling team finds success, camaraderie at MSL conference
Besides having fun together, the Hoffman Estates High School bowling team has had some successes this season.
"The team was welcoming and it was a really fun season!" said Anvi Vinu, freshman. "I enjoyed bowling a lot, made new friends, and became a better bowler." Vinu placed 12th at the MSL competition.
Other successes included Senior Alexia Bostic's advancement to sectionals for Varsity. The JV team also placed 4th in conference. Harmony Dalenberg, Mylee Hickman, and Madi Aldrich were other award winners for the JV 2 level. Miley Valencia won 3rd highest average.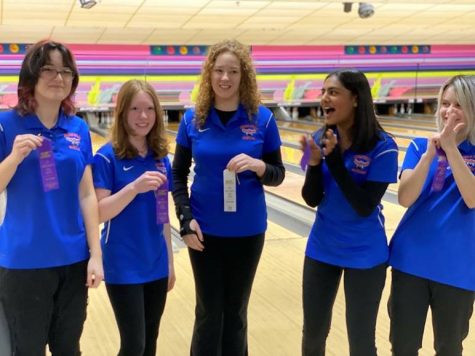 "Being a part of the bowling team was super fun. I got close with people I wouldn't have even known if I hadn't joined," said Dalenberg, freshman. "[Also] the coaches are super funny." 
Team members have expressed their love for the team and how the season positively impacted them. One reason is how relaxing the environment had been and how supportive the coaches were.
"The coaches are one of the things that made my experience amazing! I think the bowling environment is very stress free," said Hickman, freshman. "It isn't a super tiring or draining sport."