Debate team takes first place at ICDA
Hoffman Estates High School's Student Congress Debate Team has had major success this year. With the team taking home first place at the Illinois Congressional Debate Association (ICDA) tournaments 1, 3, and 4.
ICDA 4 was especially important for the debate team. Hoffman usually competes in the category of 'small school' which means Hoffman can only send 14 varsity debaters, but, for ICDA 4, Hoffman competed in the category of 'big school', going against powerhouse debate schools such as Fremd. To everyone's surprise, Hoffman took first place in ICDA 4. 
"It was one of the best underdog performances any [debater] has ever seen. I was so incredibly proud to be part of Hoffman's debate team, especially that we defied the odds and had an incredibly special win," said Azhar Ahmed, freshman.
Recently, Hoffman has attended the T.O.C (Tournament Of Champions) meet. The debaters who qualified for TOC were Tanisha Paul, Vishva Patel, Chittesh Saravanan, and Nithya Mahesh who occupied 4 of the Top 60 Varsity spots in the State of Illinois. Then, after a final round of the Top 18, Paul was 5th and Saravanan was 6th in Illinois.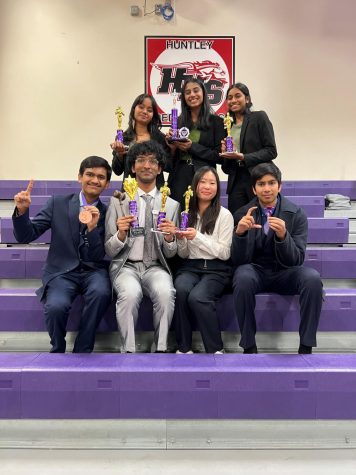 "I've been working at this goal for what felt like a millennia and seeing my goals come to fruition felt absolutely amazing," said Saravanan. "It was a team effort that helped this become a reality, but being able to individually pull through and get sixth at TOC…. it was a rewarding experience that I will never forget."
Basically, "TOC is the debate equivalent of conference for debaters," said Matthew Dowd, head coach. Getting a top 10 finish in TOC, especially by two students in the same year, is extremely rare and especially impressive.
The debate team's successes weren't instant. "For the last 10 years, the debate team has been growing to become extremely successful. This team has seen big groups of students who are dedicated to their craft. These types of students have allowed this team to grow over the years," said Dowd.
Debate is not understood by some. Debate is more than just arguing. "[In debate] we are playing the role of congressmen in committees, looking at various bills other students have written," said Vihaan Thakkar, freshman. "Our goal is to engage the audience and give speeches based on your morals, ethics, and beliefs."
Debate is no easy extracurricular. "We prepare for events by researching. The preparation time is very consuming, but it can be very rewarding," said Daniel Lopez, sophomore.